Our Factory and Products
Our focus on product innovation and material design enables us to invent products that are both high performing and also better for the body.

At Bombex, we want our "Bombies" know how the products really made. That's why we partner with the best ethical factories in the US, China and HK and source only the finest materials. We call it Radical Transparency.
Brand History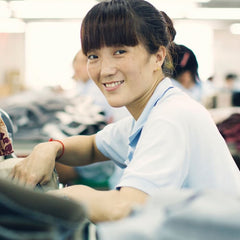 Welcome to Bombex, your girl power tribe!

I can't believe I get to share my story with you girls today. I feel very grateful when I write this down since we've made it this far!

I'm not going to sugar-coat anything. Here is the real talk. I'd gotten a lot of judgments or doubts before as a female, an entrepreneur, a wife, a mother, and a women's intimate care products business owner.

"Oh Emma, no offense, but maybe you need to start your diet."
Brand Values
* Purity - Started by woman, purely for women.

* Customer-focused - communicate with you, develop ideas with you, grow with you

* Radical Transparency - Source only the finest materials and share those stories with you—down to the true cost of every product we make.

* Innovate- constantly develop outstanding products with ergonomic creative design and exciting functions

* Social responsibility - commit to make eco-friendly and sustainable sex toys.